Mission and Vision
Supports Provided
Referral Forms
Mandated Reporting
McKinney-Vento
Safe2Say Something
Suicide Prevention
SEL Corner
Contact Information
Additional Resources
Student and Family Support Calendar
Upcoming Events
MISSION:
Belmont Charter Networks Comprehensive School Counseling Program mission is to provide a safe, nurturing and supportive environment for all students, by proactively and effectively partnering with other educators, parents, and community stakeholders. We support the academic and career success of all students through their social and emotional growth. All professionals are bound by ethical standards regarding practice and confidentiality. All staff comply with Federal and State Statutes The Family Educational Rights and Privacy Act ( FERPA) (20 USC §1232g; 34 CFR Part 99).
VISION:
Belmont Charter Network Comprehensive Family Support Program is crucial to current and future student success. Building effective relationships that provide personalized, meaningful, and equitable support empowers all students with the foundational skills for continued lifelong learning and success as productive contributors to their families and greater communities.
Prevention and Family Support Services promotes access and equity for all students and is designed to facilitate each student's academic, personal, social/emotional wellbeing and family empowerment. We support a safe student learning environment while addressing the needs of all students through prevention and intervention programs.
Prevention and Family Support Services Provides
Classroom Guidance lessons
Individual student sessions
Small-group student sessions 
Referrals for community services
Consultation and collaboration; teachers/families, support teams, outside agencies
Crisis Intervention (behavioral health, Homelessness, Grief, and Loss, etc)
All counseling and group sessions in a school setting are short-term in nature, and focus on solutions to help students succeed socially, emotionally and academically. School counseling activities help students gain confidence in their ability to interact with others, learn how to solve problems, manage and work through feelings, develop coping and calming skills, recognize their strengths, and much more!
ICS: Support Services Referral Form
BACS: Support Services Referral Form
BCES: Support Services Referral Form
BCMS: Support Services Referral Form
BCHS: Support Services Referral Form
How do Family Support Specialists and Student Support Coordinator meet with students? 
Individually

Small Groups

Classroom Guidance
Individual Counseling
Individual counseling is a service offered to students from  Pre – Kindergarten through Grade 12.  Students may be referred for counseling by a parent, a teacher/staff or themselves.  Counseling can be ongoing or short-term based on the need/situation.
Below are a few common challenges students face:
Academic Challenges

Social Skills

Conflict Resolution

Anger Management

Grief and Loss

Peer Relations

Anxiety

Family Change

Self-Esteem Issues
Many times, students will request a visit with the Student Success Coordinator regarding a situation at school. A brief meeting is held to try to resolve the situation, particularly if there has been a problem in the classroom/ playground/hallway/lunchroom with another student(s). These types of visits do not require prior permission from a parent.
Small-Group Counseling
School Success Skills

Academic Success

Making Good Choices

Friendship Group 

Goal Setting

Grief and Loss

Expressing Feelings

Lunch Bunch

Anger Management 

Pregnant and Parenting 
What are some reasons families request support? 
Concerns with student achievement

Early discussion of potential crisis

Family instability or concerns

Related health concerns

Obtain linkages to community resources
Some student and family challenges require intensive interventions, either with an individual practitioner or agency. BCN Family Support Specialist can assist you with more information about resources in the community. 
All Belmont Charter Network and Community Education Alliance Staff are required to report to ChildLine when they have reasonable cause to suspect that a student is being abused. You do not need to have proof of abuse to make a good faith report. The law only requires a reasonable suspicion that abuse is occurring. (Authority: Title 23 Pa. C.S.A. Chapter 63)
What is Childline?
ChildLine provides information, counseling, and referral services for families and children to ensure the safety and well-being of the children of Pennsylvania. This service is available 24 hours/7 days a week to receive reports of suspected child abuse.
To report suspected child abuse call 1-800-923-0313 or click here
What is child abuse?
Child abuse is defined as any recent act or failure to act by a perpetrator which causes non-accidental serious physical injury to a child less than 18 years of age; any act or failure to act by a perpetrator which causes non-accidental serious mental injury, sexual abuse, or sexual exploitation of a child under 18 years of age; any recent act, failure to act, or series of such acts or failures to act by a perpetrator which creates an imminent risk of serious physical injury, sexual abuse, or sexual exploitation of a child under 18 years of age. Serious physical neglect by a perpetrator consists of prolonged or repeated lack of supervision or the failure to provide the essentials of life, including adequate medical care, which endangers a child's life or development or impairs the child's functioning.
Kicking, biting, throwing, burning, stabbing, cutting a child in a manner that endangers the child;
Unreasonably restraining or confining a child;
Interfering with the breathing of a child;
Knowingly leaving a child unsupervised with an individual, other than the child's parent, who is required to register as a sexual offender, sexually violent predator or sexually violent delinquent.
The McKinney–Vento Homeless Education Assistance Act guarantees a free and appropriate public education for all children and youth experiencing homelessness. B.E.C. 42 U.S.C. 11431 outlines procedures for deciding school placement, enrolling students, and determining responsibility. Federal and state laws make our responsibility clear. With the huge number of children experiencing homelessness  currently attending Philadelphia public schools, we must provide proper educational support and services.
What is the definition of a "homeless youth" under McKinney-Vento?
"Homeless" is defined as "anyone lacking a fixed, adequate, regular nighttime residence."
What situations fit this definition?
Staying in the home of other people due to unavailable housing, financial hardship, or similar circumstances
Living in motels, hotels, trailer parks (in some instances – examples: leaking roof, no heat, etc.), public places, or campgrounds due to unavailable suitable housing options
Living in an emergency shelter or transitional housing
Unaccompanied (not living in direct care of legal parent or guardian) or runaway youth
Refugee and migrant youth
How does McKinney-Vento help these students?
The law makes sure that these students receive a free and suitable public education by removing barriers to school enrollment and full, basic, daily participation in school activities. This includes:
Immediate enrollment
Free and Reduced School Lunch
Help from school with any necessary enrollment documents
Help from school setting up transportation service (if the student qualifies)
Help from school with getting basic uniform clothing
Help from school with basic school supplies
Help from school with any basic clothing needs
Help from school with basic high school graduation needs and expenses,
Where can I find more information for Pennsylvania?
You can visit the PA Education for Children and Youth Experiencing Homelessness site
*For BACS, BCES, BCMS and BCHS you can contact our homeless liaison, Jeanne DiLeonardo at 215-823-8208 or jeannedileonardo@belmontcharternetwork.org
*For ICS you can contact our homeless liaison, Ashley Fernandez at 267-844-2597 or ashley.fernandez@belmontcharternetwork.org
Safe2Say Something(S2SS) is an anonymous reporting, youth violence prevention program run by the PA Office of the Attorney General in partnership with Sandy Hook Promise. This program, which is mandated under PA state law / Act 44, teaches students, teachers, and administrators how to recognize warning signs and signals, especially within social media, of individuals who may be a threat to themselves or others and Say Something to a trusted adult OR use its anonymous reporting system.
Safe2Say Something is easy and confidential to report safety concerns to help prevent violence and tragedies.
Contact Information: 1-844-SAF2Say (723-2729)
Click here for more information.
Safe2Say Something Presentation
Download the App here
Behavioral health emergencies include incidents of suicidal or homicidal ideation. Students are potentially suicidal or homicidal if they attempt to or express verbally, in writing, or through pictures, the desire or intent to inflict serious or life-threatening injury to themselves or others.
Family Support Specialist are the point of contact for all crisis-related issues. All crises are confidential and FSS will exercise clinical judgment on how to ethically share information with related staff.
Assessment:
If a student appears to feel or reports feeling a high level of stress or emotional distress in school (expressing they want to kill themselves or engage in self-harm):
Check-in with the child's school Family Support Specialist immediately.
The reporting staff will stay with the student(s) until the student is picked up by the Family Support Specialist.
The Family Support Specialist will share information with school nurses.
The school nurse will be summoned immediately if there is any self-harm done at school to examine students and determine the next steps.
The Family Support Specialist will assess students mental health status
The Family Support Specialist will complete a suicide risk assessment and develop a safety plan.
The Family Support Specialist will contact the parent/guardian and inform them of the situation.
The Family Support Specialist will have the student speak with the parent to update on the exhibited crisis, interventions implemented and supports needed.
Resources:
Philadelphia Children's Crisis Response Center
3300 Henry Avenue Falls Center 2, Suite 3N, Philadelphia, PA 19129 215-685-6440
Mobile Crisis Team
Crisis Text Line: Just text PA to 741741
Suicide Prevention Lifeline at 1-800-273-8255
TrevorLifeline at 1-866-488-7386, chat online with TrevorChat , or text START to 678-678 to have a text conversation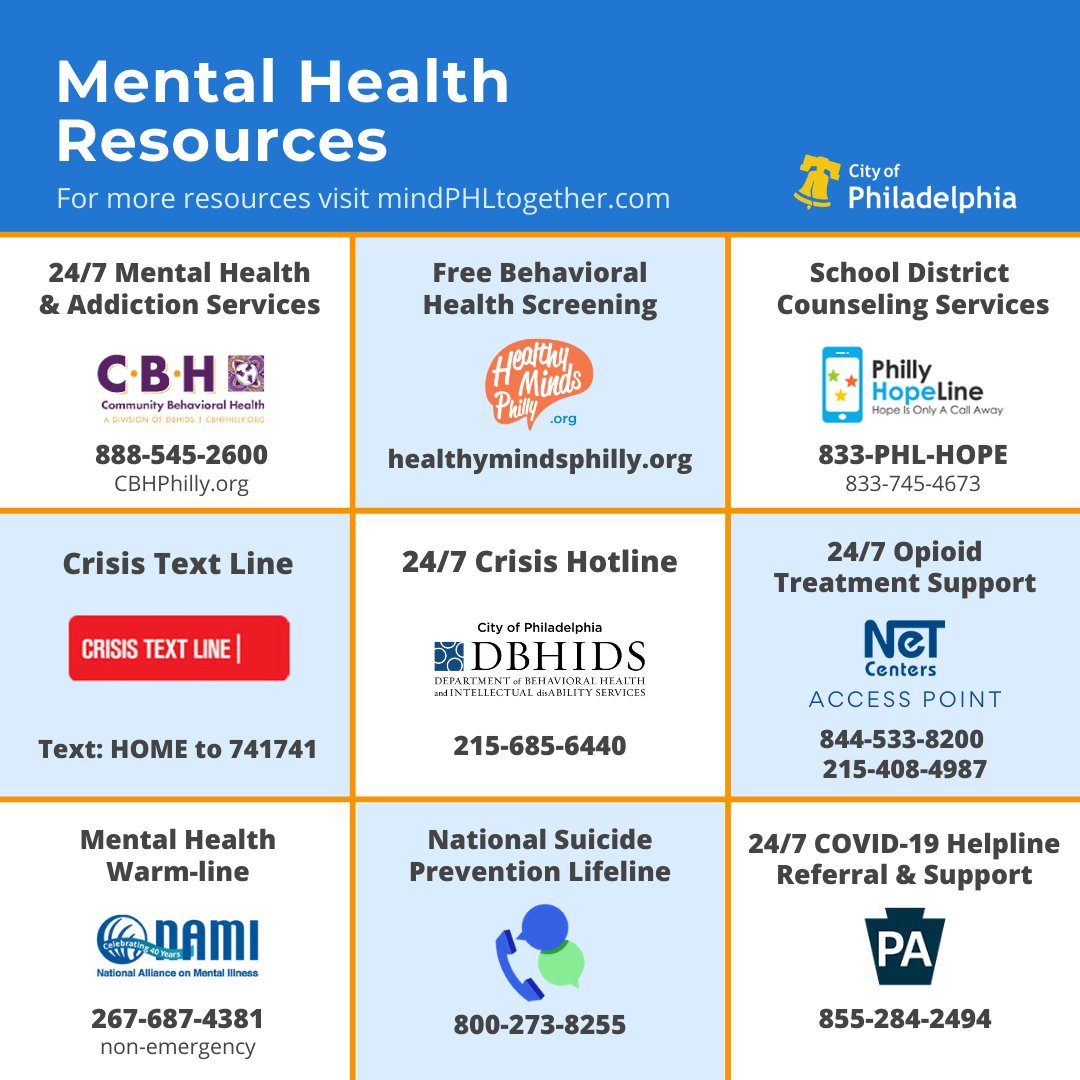 Network:
Margarita Davis-Boyer, Managing Director of Prevention and Family Supports
margarita.davis@belmontcharternetwork.org
(267) 990-8284
Jeanne DiLeonardo, Director of School and Family Connections
jeanne.dileonardo@belmontcharternetwork.org
Belmont Academy Charter School (BACS)
Molly DiStefano, Family Support Specialist
molly.distefano@belmontcharternetwork.org
Lakeisha Berry, Assistant Director: Lower Schools (ICS/ BCES)
lakeisha.berry@belmontcharternetwork.org
Inquiry Charter School (ICS)
Ashley Fernandez, Family Support Specialist
ashley.fernandez@belmontcharternetwork.org
Asia Bey, Student Success Coordinator
asia.bey@belmontcharternetwork.org
Belmont Charter Elementary School
Shahidah Lowe, Family Support Specialist (Tiger)
shahidah.lowe@belmontcharternetwork.org
Upper Schools (BCMS/BCHS)
Tamika Dover, Assistant Director
tamika.dover@belmontcharternetwork.org
Belmont Charter Middle School (BCMS)
Shantah Providence-Bey, Family Support Specialist
shantah.providence@belmontcharternetwork.org
Lydia Smalls, Student Success Coordinator
lydia.smalls@belmontcharternetwork.org
Belmont Charter High School (BCHS)
Marsha Carey, Family Support Specialist
marsha.carey@belmontcharternetwork.org
Michael Olenik, Student Success Coordinator
michael.olenik@belmontcharternetwork.org
Belmont Charter Network supports student mental health needs through partnerships with our community. The Student and Family Support services program provides resources and support for students in all grades. If you have immediate mental health needs, please access one of the following resources: Commonwealth of PA Mental Health Resources
Student and Family Support Calendar
***The purpose of this document is to provide a framework of services/supports rendered.
A.15. Virtual/Distance School Counseling School counselors: ASCA's Ethical Standards for School Counselors
a. Adhere to the same ethical guidelines in a virtual/distance setting as school counselors in face-to-face settings.
b. Recognize and acknowledge the challenges and limitations of virtual/distance school counseling.
c. Implement procedures for students to follow in both emergency and nonemergency situations when the school counselor is not available.
d. Recognize and mitigate the limitation of virtual/distance school counseling confidentiality, which may include unintended viewers or recipients.
e. Inform both the student and parent/guardian of the benefits and limitations of virtual/distance counseling.
f. Educate students on how to participate in the electronic school counseling relationship to minimize and prevent potential misunderstandings that could occur due to lack of verbal cues and inability to read body language or other visual cues that provide contextual meaning to the school counseling process and school counseling relationship.
***Student/Family Scheduling: Email, BCN Authorized Cell Phone calls/text, Google Calendar
***Solution Focused Student/Family Sessions: Zoom, Google Meet, BCN Authorized Cell Phone calls/facetime